N
aatya
Celebrating Classical Indian Dance in the Delaware Valley since 1990
Berwyn, PA
&                   
Global Dialogue Institute
Exploring the Power and Promise of Deep Dialogue
Haverford College, Haverford, PA
FOR IMMEDIATE RELEASE :   Jaunary 31, 2004
Press contact:      
Shoba Sharma, Artistic Director/Naatya,   610-725-9298  info@naatya.org
Ashok Gangadean, Professor, Founder/Director GDI,   610-896-1031  agangade@haverford.edu
Rukmini Devi Arundale Centenary Celebration
at Haverford College, February 28, 2004
<![if !vml]>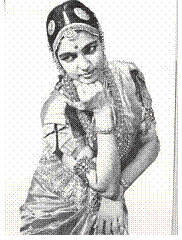 <![endif]>Haverford, PA – (February 29, 1904- February 24, 1986) - ;Naatya and the Global Dialogue Institute will honor her vision on the occasion of her birth centennial with a day of programs and performance at Haverford College on Februrary 28, 2004.
Bharathanatyam is an ancient classical dance form which originated in India over 2000 years ago and is now performed internationally. It experienced a rebirth in the 1930s, largely due to the vision of Rukmini Devi Arundale, who is considered an icon in the renaissance movement of the artistic traditions of India during the twentieth century.  Widely traveled, she fostered lifelong friendships with luminaries such as educator Maria Montessori, dancer Anna Pavlova, and poet James Cousins.  In an effort to restore Bharathanatyam to its original status as a classical dance form, Rukmini Devi Arundale sought beauty in all forms of art from all parts of the world.  foundinghand
February 29th 2004 marks Rukmini Devi Arundale's birth centenary. On February 28th 2004, Naatya and the Global Dialogue Institute are pleased to honor the memory of Rukmini Devi Arundale by celebrating her seminal contributions in the arts. "Rukmini Devi Arundale Centenary Celebration," a day-long event, will consist of workshops, lecture-demonstrations, poster sessions, audio-visual presentations, and performances at Haverford College.  This event is one of many celebrations happening in various parts of the world.
The focus of this programming is to bring awareness of Rukmini Devi Arundale's vision for the arts to a greater audience and to create a basis for sharing understanding about the arts between cultures.  In keeping with the spirit of the global power and potential of Rukmini Devi Arundale's vision as a cross-cultural phenomenon, the Global Dialogue Institute, in conjunction with Naatya, will launch its new Global Dialogue Music Series, as part of the Centenary Celebration. In keeping with the mission of the Global Dialogue Institue to open common ground while celebrating differences, the series will explore the power of music to bridge diverse cultural worlds through music and dance.
Naatya  is a non-profit performing arts organization dedicated to furthering, through teaching and performance, classical Indian dance..  An acclaimed dancer, Naatya's artistic director, Ms. Shoba Sharma, is a senior student of Mr. & Mrs. Dhananjayan, renowned dancers from India, who were trained at Kalakshetra under the guidance of Rukmini Devi.  The dancers of Naatya  are trained in the rigourous and classically pure Kalakshetra style as it has been passed down.  As part of their training,its
 <![if !vml]>

<![endif]>
For more information about Naatya and the Centennial Celebration programming, visit www.naatya.org
For more information about Global Dialogue Institute, visit www.global-dialogue.com
For more information about Rukmini Devi Arundale and Kalakshetra, visit www.kalakshetra.net   and    www.kutcheribuzz.com/rukminidevi/default.htm
This project is supported by -
<![if !vml]>

<![endif]>Pennsylvania Partners in the Arts (PPA),the regional arts funding partnership of the  Pennsylvania Council on the  Arts, a state agency.  State government funding comes through an annual appropriation by Pennsylvania's General Assembly and from the National Endowment for the Arts, a federal agency.  PPA is administered in this region by the Greater Philadelphia Cultural  Alliance, and is additionally supported by the Delaware River Port Authority and  PECO Energy.
<![if !vml]>

<![endif]>
Humanities-and-the-Arts initiative, administered by the Pennsylvania Humanities Council and funded principally by the Pennsylvania Council on the Arts.
ATTACHMENT
Rukmini Devi Arundale and Kalakshetra:
Born in Madura, India, in 1904, into a family of scholars and intellectuals, Rukmini Devi's early years were happy and comfortable. She was introduced early on to the principles of the Theosophical Society, founded by Madame Blavatsky, and incorporated in India by Annie Besant. Rukmini Devi's parents took a keen interest in the Theosophical movement, as its multi-faceted elements including egalitarianism and unfettered spirituality, appealed to them. They took up residence on the grounds of the Theosophical Society, and the generous, affectionate family won the hearts of the Theosophical community. At the age of 14, Rukmini Devi met Dr. George Arundale, Annie Besant's closest confidante and a zealous admirer of  Indian culture. Two years later, causing much scandal in the orthodox community of Chennai, Rukmini Devi and George Arundale were married. The marriage marked the first step Rukmini Devi made in a lifetime of bold and farsighted decisions. Together, the couple traveled all over India and abroad, absorbing ideas which would later be assimilated into their work.
Rukmini and George Arundale's representation of the Theosophical Society brought them into close contact with the leading political figures, thinkers, and artists from all over the world. The Arundales close association with Nobel Laureate Rabindranath Tagore and his exclusive institution, Santiniketan, as well as their admiration for the great European performing arts theaters and academies proved to be significant in the affirmation of their idea that southern India lacked such a facility and sorely needed one if the ancient performing arts traditions of not only Bharatanatyam, but also other dances such as Kathakali, instruments such as the Veena, and vocal Carnatic music, as well as the fading arts of traditional south Indian weaving and other textile arts were to survive and be passed down to future generations.
In 1936, Rukmini Devi, with her husband's support and encouragement, established "Kalakshetra," or 'a temple for the arts.' By bringing in highly talented younger artists and legendary older artists, Kalakshetra soon established an unmatched standard for training and performance. Rukmini Devi Arundale infused Kalakshetra with a thoroughly Indian spirit and ambience, but her rich background and vast expanse of knowledge enabled her to take all that she admired in the West and East and join them in her work. After the death of George Arundale in 1945, Rukmini Devi continued the mission of Kalakshetra, tirelessly recruiting students and teachers of the highest calibre, choreographing legendary dance-dramas, hosting visitors, ordinary citizens and dignitaries alike, from all over the world, who came to witness her tremendous ideas at work.
An able administrator, she guided all aspects of the school—the architectural layout and design of the campus, the formation of the syllabus, the conduct and attitude expected of its faculty and student body, the construction of its inimitable theater. As a result, Kalakshetra has established its unequivocal stature among the preeminent arts academies of India. Rukmini Devi Arundale's passion for whichever cause she took up became well-known. She served as a Member of Parliament in the Indian Congress and her eloquent appeals on behalf of animal welfare are still quoted. Offered the Presidency of India, Rukmini Devi Arundale turned down the honor, in deference to her continued mission in the arts. Considered to be one of the most influential people in the shaping of the artistic consciousness of post-colonial India, she won critical acclaim for her passionate work in rejuvenating Bharatantayam and other ancient artistic traditions of India, elevating them from disrepute and eradication to elegance and virtuosity. She was honored with innumerable prestigious awards for her work in promoting global dialogue through the principles of the Theosophical Society and widespread respect for her work in preserving cultural understanding through such as UNESCO.